Virtually every student and

b

usiness

p

rofessional has a laptop with wireless LAN capability, and wants to log anywhere and everywhere. This inexpensive piece of technology will locate the WiFi connection and the best place for reception.
What it is:
T

he WiFi Seeker find

s

wireless hot spot

s

(

w

ithout having to boot-up your computer) and

finds the strongest wireless (802.11 b/g) signal. W
hether you're in an airport,
coffee shop, classroom
or at home, the WiFi Seeker will zero-in on the best access point.
H
ow it works:
Simply point the WiFi Seeker in any direction
, p
ush the button and hold it down.
The red lights sweep back and forth
, i
f there is a wireless access point within 300 feet, the WiFi Seeker will find it
.
When the red lights stop sweeping and remain lit, you've located an (802.11 b/g) access point
, t
he more red lights that stay lit, the stronger the signal.
Where to buy

(eBay)

: http://cgi.ebay.com/ws/eBayISAPI.dll?ViewItem&category=61818&item=5717513749&rd=1
Please c

ontact me for volume discount

s

and custom logo/design

information

. We can do clamshell, bulk or custom packaging. Colors, school logos, etc. are not a problem and at minor additional cost

or free if the quantity is large enough!!
Thank you, and reply with REMOVE to opt-out...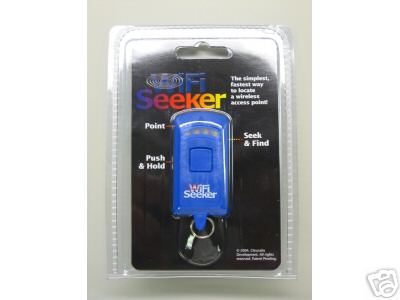 Wi-Fi Networking News: Chrysalis WiFi seeker
Tuesday, April 27, 2004
| by Eamon Hickey
Wi-Fi Networking News has this

brief report on Chrysalis Wi Fi Seeker,

a keychain-sized device that scans for active WiFi (802.11b) networks. It's also handy for measuring signal strength within a given coverage area.
Gizmodo.com

:

Best Wi-Fi Signal Finder Yet,
04/22/2004 05:19
Glenn Fleishman got a hold of the Chrysalis WiFi Seeker, a keychain-sized sniffer to detect 802.11b/g networks and says it's the best yet:
Push the button on the WiFi Seeker and it scans briefly, often under a second, before displaying a signal strength in zero to four LEDs. Keep the button held down and it's a Wi-Fi dowser, allowing you to move around and see immediate response to different signal strengths.
stargeek: Best Wi-Fi Signal Finder Yet, 04/22/2004 05:19
Chrysalis previews their WiFi Seeker, a keychain sized device for instant Wi-Fi signal finding: Chrysalis sent me a demo unit of its just-unveiled WiFi Seeker, which they designed to differentiate 80211b/g networks from other devices. Two previous Wi-Fi signal finders fell short in ways the Seeker does not. The Kensington WiFi Finder is relatively large (credit card sized) and scans before displaying the results instant of a constant active scan--but it can tell Wi-Fi from junk.
engadget.com: The WiFi Seeker Apr 23, 2004
There were a couple of credit card-sized WiFi detectors that came out last year, Kensington's WiFi Finder which turned out to be a dog, and SmartID's WFS-1, which was better, but still no great shakes (though we still use ours fairly often). Anyway, Glenn Fleishman checks out a brand new one, the WiFi Seeker from Chrysalis, which can tell the difference between 802.11b/g and other signals occupying the 2.4GHz part of the spectrum. He says it's the best of the bunch and that it should be on sale by June.
Wi-Fi Seeker: Hotspot seeking keychain
Wi-Fi Networking News

takes a look at the new "

Wi-Fi Seeker

" from a company named Chrysalis. The small keychain device allows users to wander the earth, finding wireless access points with the equivalent of a tiny divining rod. Previous incarnations couldn't differentiate between 802.11b or g hotspots and junk interference, something this latest version is apparently much better at.